VR headsets, cyborgs and legal disputes: welcome to the world of virtual music
AI plays a huge role in entertainment, from deceased stars performing from beyond the grave to digitally created rappers.
What if you could harness the power of AI to create the perfect modern rapper? Well, someone tried – and the star was 'cancelled' for racist behavior days after being signed to a major record label.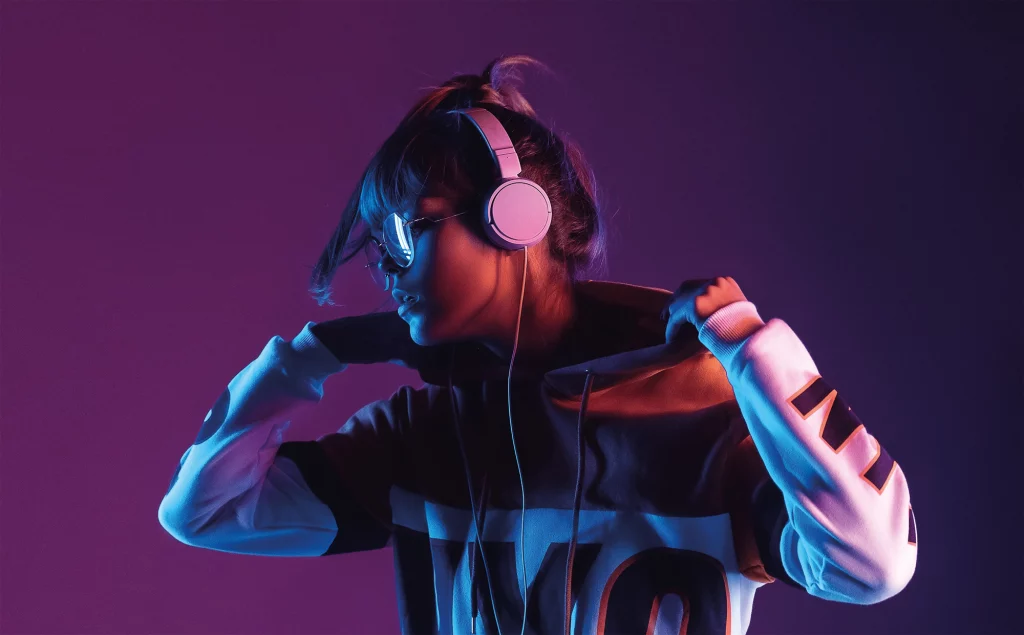 FN Meka is a virtual rapper with millions of followers on TikTok. The digital avatar has the look of the rapper, a black cyborg with green braids, face tattoos and gold chains. But Meka was created by the white co-founders of Factory New, which promises to be a "first of its kind, next-gen music company, specializing in virtual beings."
Although the character was voiced by an uncredited human, the other elements were created by the AI. The company claims to have created technology that analyzes popular songs from specific genres and then generates suggestions such as "lyric content, chords, melody [and] tempo".
Although the character has been around since 2019, a recent surge in popularity has seen Meka amass over a billion views on TikTok. This led to the announcement that FN Meka had been signed by Capitol Records, making him the first AI artist to receive a major recording contract.
It lasted 10 days.
The international headlines sparked new questions about the use of the n-word in a 2019 song and digitally generated images of the rapper being beaten by police on Instagram. An activist group, Industry Blackout, wrote an open letter saying FN Meka was "offensive" and "a direct insult to the black community and our culture."
The band went on to say that the virtual rapper was "an amalgamation of crude stereotyping, appropriating ways that derive from black artists, with slurs infused into the lyrics."
Gunna, a black artist who features on a song with FN Meka, is currently incarcerated for rapping the same type of lyrics that this robot mimics. "The difference is that your contrived rapper will not face federal charges," Industry Blackout said.
Gunna, real name Sergio Kitchens, is being held in a US prison without bail for the crime of racketeering. Some of the rapper's lyrics are included in the prosecution's evidence. Kitchens denies the charges and awaits trial.
Before long, internet sleuths had tracked down the anonymous human voice of FN Meka, who revealed he had never been paid for his involvement in the project. Capitol Records announced that it had "severed ties with the FN Meka Project, effective immediately".
FN Meka isn't the first all-virtual artist, but even with his rapid fall from grace, he's the only one to come close to popular success. Another contender is Polar, an AI pop singer created by The Soul Publishing, the company behind many of the controversial "life hack" videos you see online. Characterized by signature turquoise pigtails and doll-like features, Polar may not have had the social media success of FN Meka, but she recently headlined the all-virtual Solar Sounds festival, which attracted more four million participants in the past. The Solar Sounds Festival is hosted by life simulation computer game Avakin Life and takes place in Facebook's Metaverse, a virtual reality (VR) social space accessible with VR headsets. While VR headsets once seemed like a curious luxury, the pandemic has breathed new life into the fringe industry. Bloomberg predicts the Metaverse could be an $800 billion market by 2024.
The increasing use of virtual reality in the music industry has also created new questions about copyright and ownership in the digital world. To what extent can someone else's music be used in the virtual world before infringing copyright laws? Artificial intelligence companies have recently been able to create and release "deep fake" music, where virtual voices sound exactly like popular artists such as Katy Perry and Frank Sinatra – and they can sing whatever their creators wish. While music played in public requires specific licenses that pay royalties to the artist, there is no such license yet for the Metaverse.
The question of how much control an artist has over their own likeness may not be new, but it has different implications in the digital world. From a hologram of Tupac Shakur rapping at a concert in 2012 to the growing popularity of performances by deceased artists in South Korea, these questions are becoming increasingly complex. Confusion over who is actually behind a character and the presence of a larger anonymous crew make it difficult to establish accountability. In the case of FN Meka, this allowed the developers to escape responsibility and questions for three years.
AI is unlikely to loosen its grip on the music industry anytime soon. While digital personalities may not be the way to go, many real-life artists have successfully harnessed the powers of the virtual world. Recent surveys found that 45% of all adults would listen to live music in a virtual world, as would 56% of Gen Z and 61% of Millennials. Although admission to these concerts is usually free , visitors are invited to buy virtual products that their digital avatars can wear. Popular video game Fortnite held its first concert in 2019 with EDM musician Marshmello. It brought him 147,000 new Twitter followers – and increased his daily YouTube views by 500%.
In 2020, 12.3 million people attended Travis Scott's nine-minute Fortnite concert, which drew 27 million visitors and generated $20 million in merchandise revenue for the rapper (compared to $53.5 million for his entire world tour in 2018/19). Rapper Snoop Dogg released an exclusive metaverse music video for his song House I Built in April 2022, and Warner Music Group (WMG) announced in January 2022 that it would host a "combination of musical theme park and concert venue in the same digital. space, rumored to include artists such as Dua Lipa, Ed Sheeran and Green Day.
In these virtual reality concerts, artists wear motion capture suits and can respond to fans in real time. These are unique and authentic performances in which visitors can interact with the artists and the world around them.
Ariana Grande's Fortnite tour saw players ride cotton candy waves and battle monsters while watching her performance. This technology can be exploited in the real world. In London, fans can watch ABBA perform, captured as themselves younger, without the band being there, or anyone wearing headphones or looking at a screen. These virtual concerts are becoming so popular that in 2022, MTV announced a new category for its upcoming Video Music Awards: Best Metaverse Performance.
It seems that the future of AI in the music industry does not lie in anonymous creators developing virtual musicians from scratch, but in collaborations between the real world and the virtual world. As VR headsets become more and more common in homes, it's not a question of whether you'll soon be attending your first virtual concert, but when.
By Kitty Wenham
---